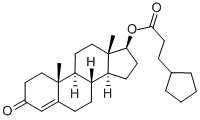 Testosterone cypionate is used for:
Treating symptoms of low testosterone in men when the body does not make any testosterone or not enough testosterone (hypogonadism). It may also be used for other conditions as determined by your doctor.
Testosterone cypionate is a male sex hormone. It works by replacing or supplementing the testosterone that is naturally made in the body.
Do NOT use testosterone cypionate if:
you are allergic to any ingredient in testosterone cypionate
if you are pregnant, planning to become pregnant, or are breast-feeding
you have breast cancer and are male; known or suspected prostate cancer; or serious heart, liver, or kidney problems.Contact your doctor or health care provider right away if any of these apply to you.